Yes, an optometrist can diagnose glaucoma. It is important to get annual eye exams as glaucoma is usually a silent disease. If you are experiencing vision issues, it is even more important to visit an optometrist as soon as possible, as seeking an immediate diagnosis is essential to receiving proper treatment.
An optometrist can detect signs of potential vision deterioration caused by this eye disease. With early detection, your optometrist can provide the specialized care needed to help retain your vision as much as possible.
Read on to learn more about how an optometrist diagnoses and treats glaucoma.
What Is Glaucoma?
Glaucoma is a serious eye disease affecting hundreds of thousands of people in Canada. It is a condition characterized by damage to the optic nerve, which is the vital link between the eyes and the brain. Damage to these delicate fibres leads to blind spot formation in our vision.
Most but not all forms of glaucoma are associated with a high fluid pressure (intraocular pressure or IOP) within the eye. Left untreated, glaucoma can lead to severe vision loss and even blindness.
Primary open-angle glaucoma is the most common form, but many other types of glaucoma also exist.
Glaucoma Symptoms
Because glaucoma may not exhibit outward symptoms in the early stages, it's crucial to have regular eye exams to detect potential abnormalities. Glaucoma can cause serious, permanent damage to vision and can develop in one or both eyes.
Individuals with a family history of glaucoma are more likely to be affected. Early detection and treatment can provide individuals with the best chance at maintaining healthy vision, so don't delay getting your eyes checked!
How Glaucoma Develops
There are various reasons why glaucoma could occur, from anatomical variation to injuries, inflammation or aging. The varying contributing factors and typical slow progression of the disease often means glaucoma can go undetected for many years before sight loss becomes noticeable.
How Glaucoma is Diagnosed
As glaucoma often has no visible symptoms, our doctors at Cowichan Eyecare use several tests in order to diagnose glaucoma. Some of these include:
Tonometry: This test measures the pressure inside the eye, which can be an indicator of is a risk factor for glaucoma.
Ophthalmoscopy: This is a visual examination of the optic nerve to check for any signs of damage or abnormality.
Perimetry: This is a visual field test that measures a person's peripheral vision. Glaucoma can cause peripheral vision loss, so this test can help detect the condition.
Optical coherence tomography (OCT): This is a non-invasive imaging test that provides detailed images of the optic nerve and can help detect any damage or thinning of the nerve fibers. OCT is extremely valuable in early detection of glaucoma.
Pachymetry: This test measures the thickness of the cornea, which can affect the accuracy of the intraocular pressure measurements obtained by tonometry. Thin corneas can falsely lower underestimate intraocular pressure readings, while thick corneas can falsely elevate tend to overestimate them. Pachymetry helps to ensure accurate diagnosis and management of glaucoma. Thin corneas are also a risk factor for glaucoma.
Gonioscopy: This is a test that uses a special lens to examine the drainage angle of the eye, which is where internal fluid flows out of the eye. Abnormalities in the drainage angle can lead to increased intraocular pressure and increase the risk of developing glaucoma. Gonioscopy helps to evaluate the drainage angle and determine the type of glaucoma a person has.
It's important to have regular eye exams, especially if you have risk factors for glaucoma, such as a family history of the condition, high eye pressure, or advanced age. Early detection and treatment can help prevent vision loss and preserve eye health.
How Glaucoma Is Treated
Medicated eye drops are typically the first line of defence, which aim to reduce the pressure within the eye and protect the optic nerve from further damage. Different types of prescription eye drops work differently, such as reducing the amount of intraocular fluid produced, or supporting the function of drainage canals.
Similarly, surgery options can target glaucoma through laser or other devices to reduce pressure.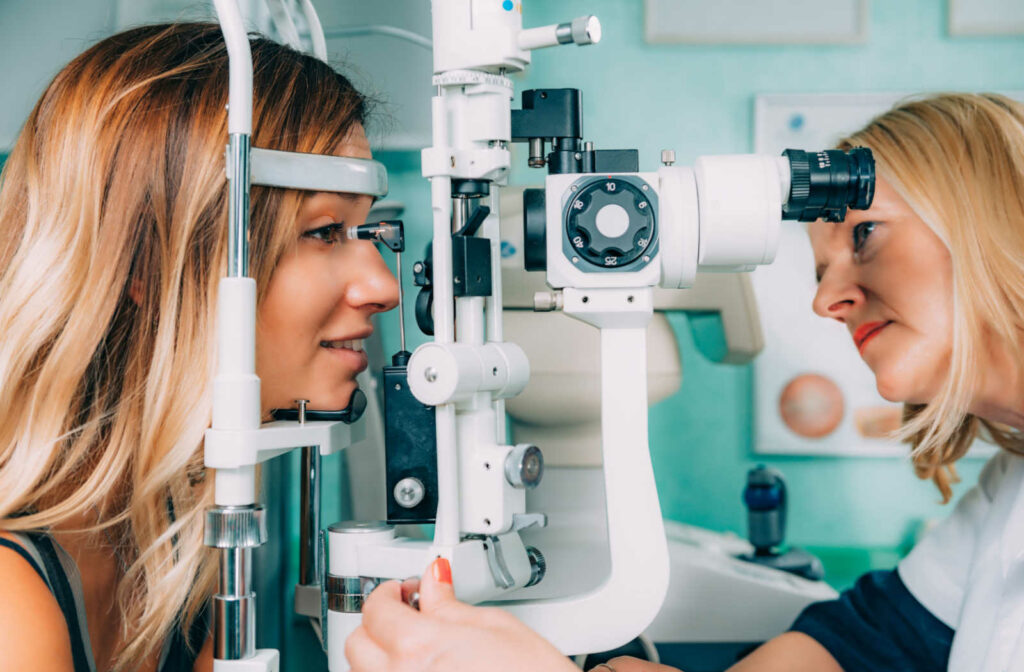 How Can You Protect Yourself from Glaucoma?
There are some preventative measures you can take to support healthy vision and protect your eyes from glaucoma.
Maintain a healthy weight
Control your blood pressure
Avoid smoking
Stay physically active with activities like walking or running
But the most important step to protect your eyes is to ensure routine complete eye health examinations. This will detect risk factors and diagnose glaucoma as early as possible so that treatment may be started to prevent or slow damage.
Comprehensive Care & Diagnostics for Glaucoma
At Cowichan Eyecare, we understand how important it is for patients to receive an accurate and timely diagnosis for issues related to their eyes. That's why we provide comprehensive care and diagnostics for glaucoma.Our team prides itself on being caring, knowledgeable, and community-minded. We believe in providing individualized and compassionate customer service keeping your convenience and comfort at the forefront.
If it's time for your annual eye exam or you're experiencing vision problems, book an appointment with a qualified optometrist at Cowichan Eyecare today!