Low vision exams or assessments are essential services that provide practical solutions to people with impaired vision through an in-depth look at how vision impairment affects your life. Because glasses, contact lenses, or surgery cannot treat low vision, everyday tasks and activities can be difficult.
When you visit your eye doctor for a low vision exam, they can help address the visual difficulties or reduced vision you experience by providing ways to enhance your remaining vision to improve your quality of life.
What Is Low Vision?
Low vision is a visual impairment that eyeglasses, contact lenses, surgery, or medical interventions cannot fully correct. Individuals with low vision may face challenges in daily activities, such as:
Reading
Writing
Driving
Recognizing faces
Distinguishing colours
Seeing a digital screen or the television clearly
However, it's essential to understand that low vision doesn't equate to a lack of independence or capability—it simply means finding new ways to adapt and thrive in a world where visual clarity may be limited.
Types of Low Vision
There are several types of low vision, depending on the underlying cause. These types include the following:
Central vision loss: Inability to see things in your central vision
Peripheral vision loss: Inability to see things in your side vision or out of the corners of your eyes (tunnel vision)
Night blindness: Inability to see in low light or at night
Blurry or hazy vision
Causes of Low Vision
Low vision is more common in older adults. This is not only from aging itself but from the variety of eye diseases you can become more at risk for as you age.
Common causes of low vision include:
Low Vision Exam
A low vision exam is not like an ordinary eye exam—it's a specialized service designed to address the unique needs of individuals with low vision. Regular eye exams help to monitor eye health, detect early signs of eye conditions, and determine the need for prescription glasses or contacts.
A low vision exam is longer and more in-depth, centred around assessing current vision abilities and maximizing visual potential and independence. Before your exam, your eye doctor will likely discuss your health and medical history with you.
This may include asking questions about conditions, family medical history, medications you take, and symptoms you had in the past or are currently experiencing.
During the exam, your eye doctor will look at your visual capabilities, explore specific challenges, and gain a comprehensive understanding of your daily living requirements or desired goals to personalize and tailor the tests to your individual requirements.
The core of the low vision exam lies in evaluating how a person's vision functions. This process is detailed and may involve a range of tests, including the following:
Visual acuity—assesses near and distant vision
Contrast sensitivity—assesses your ability to detect objects at low contrast
Glare testing—for sensitivity to bright lightning or different light levels
Visual field test—assesses your field of view or central and side vision
Colour vision—assesses your ability to distinguish between colours
Depth perception—assesses your ability to judge how far an object is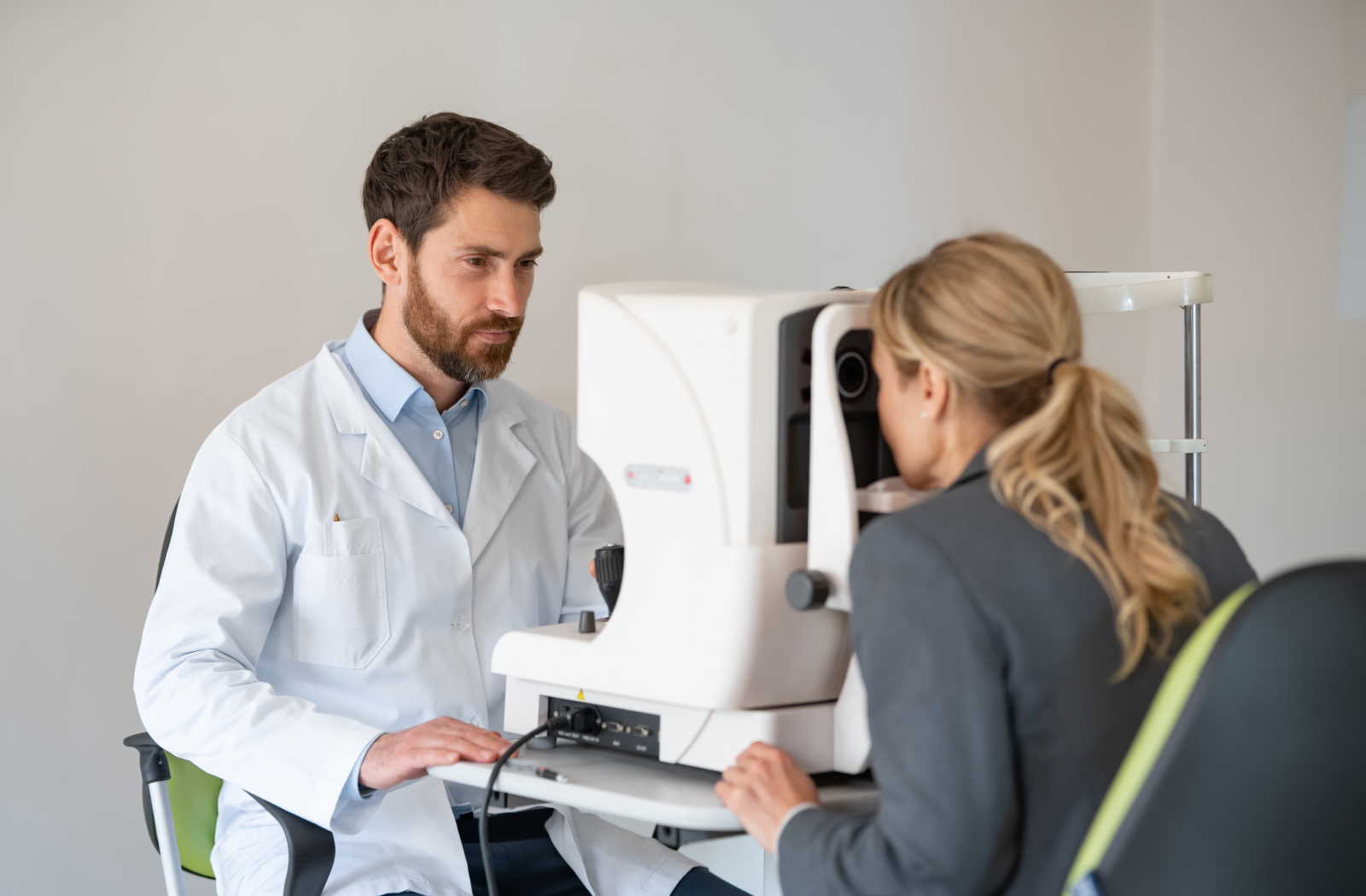 Assistive Devices & Techniques
Once your eye doctor has gathered the necessary information, understood your remaining visual abilities, and identified areas of difficulty, they can recommend strategies and aids. These may include optical options, which modify or enlarge an image, or non-optical ones that don't have a lens system but can make it easier to see objects.
Some examples of low-vision devices include:
Tints
Specialized glasses
Magnifiers
Computerized magnifying devices
Large print books and games
Assistive audio devices
Writing guides
Tips for Living with Low Vision
A low vision exam is an important step in maximizing your remaining sight. However, there are several tips you can incorporate to keep doing what you love with the vision you have. These can include:
Using brighter lights at home or work
Wearing anti-glare sunglasses
Using a magnifying lens for reading and other up-close activities
You can also consider vision rehabilitation. Your eye doctor may be able to help you learn how to live with your vision loss by providing the following:
Training on how to use low-vision aids
Guidance on how you can move around more easily at home
Resources to help you cope with your vision loss
Low Vision Management at Cowichan Eyecare
A low vision exam can help you make the most of your functional vision. Low vision aids can offer hope and practical solutions to living with as much independence as possible.
While navigating life with visual challenges can be overwhelming, a low-vision treatment plan can become a reliable source of encouragement, helping individuals cope with the changes and challenges of losing sight.
Book an appointment with Cowichan Eyecare for a low vision assessment to help you manage your vision needs and everyday living.