Laser eye surgery is an excellent option for individuals looking to reduce their reliance on contact lenses and glasses. The first step is finding out if you are compatible with laser eye surgery which involves visiting your optometrist for a comprehensive laser eye surgery consultation.
While laser eye surgery is a proven and exciting option for vision correction, it is important to understand the process and the risks that come along with it, like dry eyes. Proper maintenance following laser eye surgery is essential to prevent dry eyes and keep your eyes healthy.
Let's take a closer look at the laser eye surgery process, including how your optometrist determines your candidacy and how laser eye surgery can cause dry eyes.
Preparing for Laser Eye Surgery
Laser eye surgery can help correct refractive errors like:
While many think of laser eye surgery as a way to correct their vision, it can also be used to treat other eye conditions, including:
The first step is your initial consultation to identify if your eyes are compatible with laser eye surgery. If you choose to undergo the procedure, your optometrist will be there every step of the way to help you prepare for surgery and provide post-surgery care.
During your consultation, your optometrist will review your eye health and lifestyle, and you may be a candidate if:
You have healthy eyes
Your prescription is not too high
You do not have an irregular cornea
Your vision has been stable for at least 1 year
Laser eye surgery can be an exciting option to achieve clear vision without your glasses or contact lenses, but it's important to go in with realistic expectations. Your optometrist will walk you through the risks and side effects of laser eye surgery before committing to the procedure.
Laser Eye Surgery & Dry Eyes
Post-surgery care is just as important as your pre-surgery consultation. Laser eye surgery offers many benefits, and advancements in eye care technology have made laser eye surgery a more common procedure than ever.
However, there are potential complications and side effects following your surgery that you must be aware of and ready to address. Possible complications and side effects of laser eye surgery may include:
Dryness
Redness in the eye
Vision disturbances such as glares or halos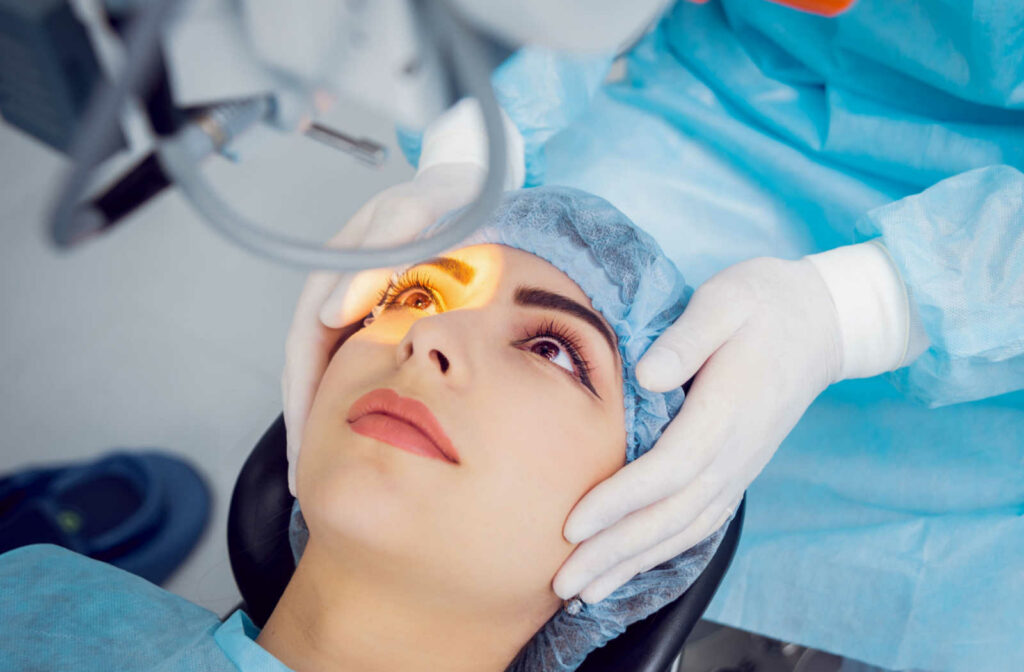 Eye pain
Light sensitivity
Your optometrist provides comprehensive post-surgery care, including scheduling follow-up appointments to ensure your eyes are healing correctly.
Dry Eyes Following Surgery
Dry eyes following LASIK eye surgery are a common side effect, and you may need to visit your optometrist for dry eye management.
As part of your post-surgery care, your optometrist will help manage your dry eye discomfort through different treatment methods to help you find relief. The signs and symptoms of dry eye following laser eye surgery usually last about 1 month, and it's more common with LASIK vision correction.
LASIK surgery can cause a temporary decrease in tear production, resulting in your eyes feeling unusually dry. Depending on your unique visual needs, your optometrist may recommend eye drops or other treatment options.
Achieve Your Vision Goals
Laser eye surgery is an excellent option to help you achieve your vision goals. Like any other surgery, there can be potential side effects and complications following your surgery, including dry eyes. Your optometrist will provide comprehensive pre-surgery consultations and post-operative care.
Book an appointment at Cowichan Eyecare today to see if laser eye surgery is a good option for you.