Are Your Glasses Expired?
Eye exams are essential for protecting your vision. While regularly visiting your eye doctor allows them to evaluate eye health, it also allows patients to keep their prescription updated.
According to the Canadian Association of Optometrists (AOA), eye exams are generally recommended every 2 years for adults, annually for school-age children, and annually for seniors. But does that timeline only apply to eye health? How long is your prescription for eyeglasses or contact lenses valid?
Why Do Prescriptions Expire?
Food and medications have expiry dates because the ingredients can go bad or lose effectiveness over time. But why do prescriptions for eyeglasses or contact lenses expire?
There are 2 main reasons your optometrist includes a best-before date with your prescription:
Your eyes (and your prescription) may change.
Your glasses or contact lenses may need replacing.
While your glasses won't necessarily stop working, your prescription lenses may not work as effectively. Regardless of whether your refractive error changes, checking in with your optometrist is necessary to ensure your prescription is serving your eye health and vision.
How Long Is an Eyeglasses Prescription Valid?
According to the Canadian Association of Optometrists, an optical prescription is valid for no more than 2 years. Usually, a prescription is valid between 1–2 years after an eye exam. You can find the date in the notes section, sometimes labelled "note to the ophthalmic dispenser." For example, it may be written: "Valid for 12 months from date of examination."
The 2-year mark coincides with the recommended frequency for adult comprehensive eye exams. However, if you tend to experience more frequent vision changes, your optometrist may recommend coming in sooner.
Children typically experience vision changes more than adults as the eyes are still growing. Generally, eye length grows until about age 20–21.
Eye length contributes to refractive errors as it affects how light is focused inside the eye, leading to blurry vision when the eye shape is abnormal. When eyeball length is too short, it can cause hyperopia (farsightedness). When the eyeball is too long, it can cause myopia (nearsightedness).
Scheduling routine visits with your optometrist is also a chance to check on the condition of your glasses. Your frames and lenses may look fine, but there can be fine cracks or damage you can't see. Caring for your lenses and tuning up your frames can extend the lifetime of your eyeglasses. However, your eyewear will still wear down over time.
The end date on your prescription is a reminder to discuss your eye health and vision with your eye doctor. Your visual acuity may remain the same, but your vision needs might need an update. For example, you may benefit from adding a lens coating or filter, such as blue-light-blocking or anti-reflective coating.
You may benefit from new glasses designed for a specific visual task, such as computer work or sports. Computer glasses are designed for the distance and type of work required when using a computer. Prescription glasses for sports use damage-resistant materials and be safer for intensive activities.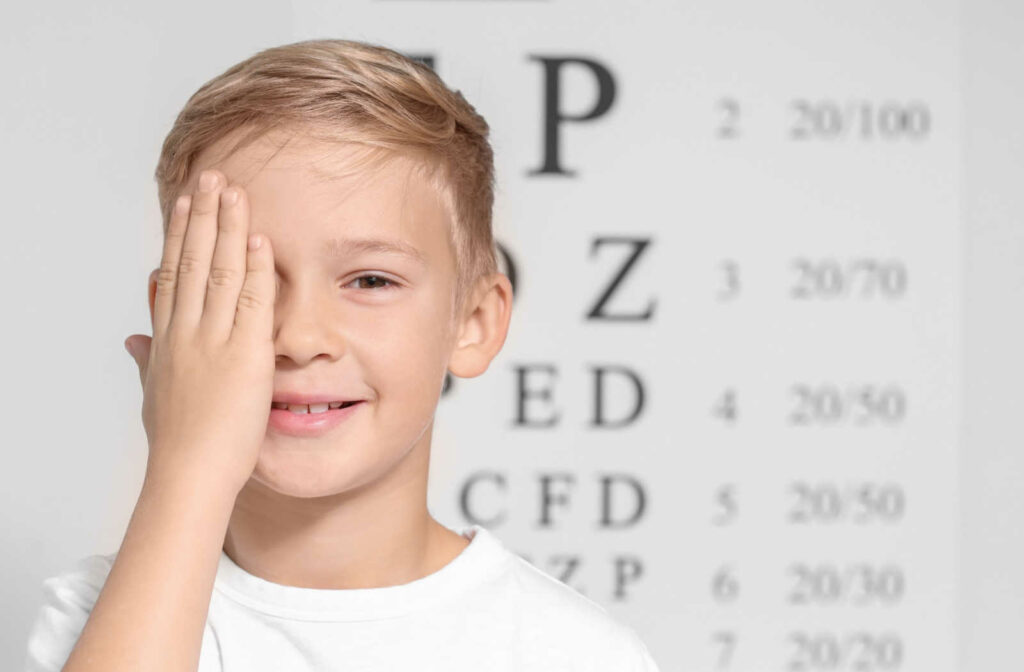 When Do Contact Lenses Expire?
A contact lens prescription is different than an eyeglasses prescription. Generally, the prescription is valid for 1–2 years.
Prescriptions for contact lenses can be more complex as the lens rests directly on your eye. For example, long-term contact lens wear can impact cornea thickness and curvature, causing steeper, thinner corneas. Although cornea changes usually occur slowly, minor differences can alter your prescription.
Besides checking your contact lens prescription, it's also crucial to check when your contact lenses expire. For example, rigid gas permeable (RGP) contact lenses can last up to 2–3 years with proper care. In contrast, soft contact lenses—even extended wear options—must be replaced more frequently.
One of the healthiest options for soft contact lenses are daily disposable or single-use lenses. No cleaning is necessary, as patients dispose of lens after a single wear. There's much lower risk of exposure to bacteria and depost buildup on the lens.
When you receive your soft contact lenses, the packaging will include product details, manufacturing information, and the expiration date. You can find the information on the packaging box and the blister pack.
RGP contact lenses are shipped dry, so there's no concern about the packaging expiring. However, the lens itself should be replaced when the prescription is no longer valid or wear over time causes damage to the lens. On the other hand, soft contact lenses are delivered in a sealed container which contains a solution (buffered saline and a wetting agent to hydrate the lens).
Beyond the expiry date, the contact lens manufacturer cannot guarantee the condition of the container or the product inside. For example, the lenses may have dried out, or the solution may have been contaminated.
Replacing your contact lenses when worn out or expired is critical for preventing complications, from eye infections to dry eye.
Book Your Next Eye Exam
Seeing your optometrist regularly can ensure your prescription is still valid. Assessing your sight at least every 2 years allows your eye care team to watch for the small changes and the big changes that can impact your eye health. If you don't know if your prescription is still valid, it's time to check!
Request an appointment at Cowichan Eyecare today!